Become a Fellow
If you are a teen interested in our 2023 Fellowship, please add your name to our interest form. We will notify you when the application opens in early September. (To be eligible for the 2023 Fellowship, you must be entering 11th grade in the fall of 2022 and be at least 16 by the summer of 2023.) If you are an adult who works with teens, please fill out this form
About the Fellowship
Every year, twenty-six intellectually adventurous North American teenagers are selected as Bronfman Fellows. The Fellowship begins with a five-week, all-expenses-paid summer in Israel, where Fellows engage in thought-provoking study and conversation and make lifelong friends. Fellows encounter the land and people of Israel, study major issues in contemporary Jewish life, and meet with some of today's most influential figures. Inspired by a diverse faculty of Rabbis, educators, and artists, the pluralistic group of Fellows have the opportunity to explore a wide range of Jewish texts — from classic religious documents to contemporary Israeli and American voices — as well as art workshops, using them to spark conversations, engage with stimulating existential questions, and achieve a deeper understanding of themselves and one another.
The Fellowship year continues with monthly virtual experiences and a Winter and Spring seminar in the United States, usually in the Northeast. Fellows continue their association with the Fellowship through our extraordinarily active, 1400+ alumni community.
Eligibility and Important Dates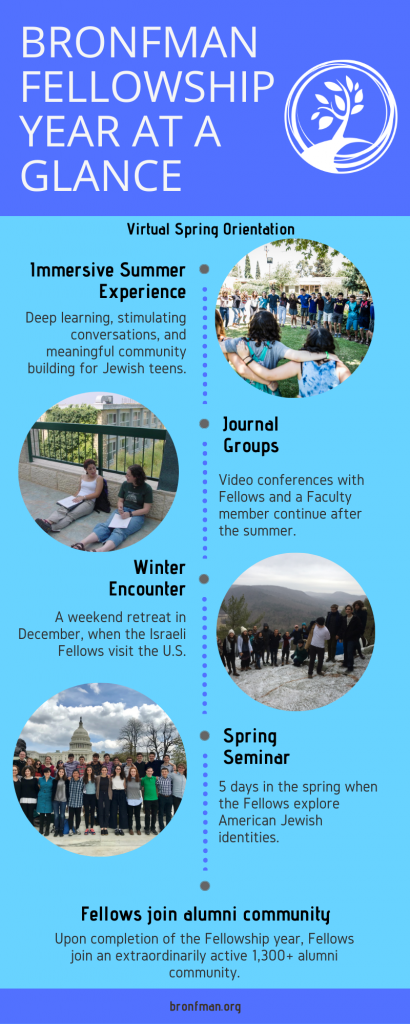 High school students in the 11th grade in the fall of 2022, who self-identify as Jewish, who are from the United States or Canada, and who will be 16 years old or older by the summer of 2023, are eligible for the 2023 Fellowship. (11th-grade students who are too young can apply in the 12th grade.)
The application for our 2023 Fellowship will be open in early September. Please add your name to our interest form to be notified when the application is open.
The Fellowship begins the summer after 11th grade. It covers round-trip transportation between New York and Israel, educational programming, and room, board and travel while in Israel. Room and board at orientation and the Spring Seminar are also included. Limited additional subsidies (based on need) are available to defray costs of travel to interviews, to New York for the summer program, and for follow-up alumni activities.
Dates for 2023 Fellowship Year*:
Summer Seminar: June 26, 2023 – August 1, 2023
Winter Seminar: December 11 or 12, 2023 – December 14, 2023
Spring Seminar: March 29, 2024 – April 2, 2024
*These dates are subject to change.
Application at a Glance
Application Opens: September 6, 2022
Virtual Info Sessions – Save the Date! Feel free to join whichever one is more convenient.

October 20, 2022 (8PM PT)
October 26, 2022 (8 PM ET)

Application Deadline: December 5, 2022
Deadline for receipt of letters of recommendation and transcript: December 7, 2022
Keep in mind that your application must include:

Two (2) letters of recommendation from individuals who know you well. At least one of these letters must be from a teacher. The other can be any non-relative who knows you well (including another school professional, Rabbi, employer, etc.).
High school transcript (through at least grade 10).

More questions? Check out our FAQ's