Application Roadmap
Who's eligible to apply for the 2023 cohort? High school students in the 11th grade in the fall of 2022, who self-identify as Jewish, and who are from the United States or Canada are eligible for the 2023 Fellowship.
The application for the 2023 Bronfman Fellowship is now closed.

To apply next year, please add your name to our interest form.
Read about our commitment to inclusion and pluralism on the Fellowship.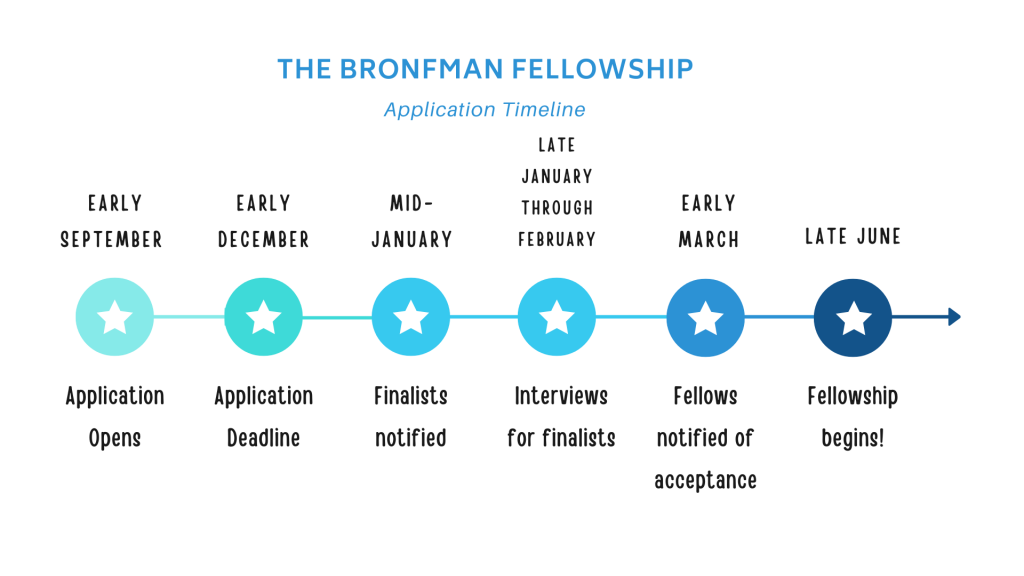 Application Period for the 2023 Cohort:
Application Opens: Early September 2022.
Keep in mind that your application must include:
Two (2) letters of recommendation from individuals who know you well. At least one of these letters must be from a teacher. The other can be any non-relative who knows you well (including another school professional, Rabbi, employer, etc.).
A high school transcript (through 10th grade).
See a preview of this year's application (to help prepare your application, but this cannot be submitted. Application must be completed online here).
Quick Application Tutorials:
Virtual Info Sessions:
Virtual Info Sessions – Watch a recording of our Oct. 20 info session here.
Application Deadline: December 5, 2022
Deadline for Supplementary Materials (letters of recommendation & transcript): December 7, 2022
After Submitting Application:
Finalists notified: Mid-January. Finalists will be invited for remote interviews.
Interviews for Finalists: Late January through February.
Fellows notified of acceptance: Early March 2023.
Fellowship Dates for 2023 Cohort*
Summer Seminar: July 3, 2023 – August 4, 2023
Winter Seminar: January 18–23, 2024
Spring Seminar: April 14–18, 2024
*These dates are subject to change.
Fellowship Dates for 2022 Cohort
Summer Seminar: June 27 – August 2, 2022
Winter Seminar: December 16–21, 2022*
Spring Seminar: April 21–25, 2023*
Resources:
Download our application tips.