Application Roadmap
Who's eligible to apply for the 2022 cohort? High school students who self-identify as Jewish, are from the United States or Canada, will be in 11th grade in the Fall of 2021, and were born before June 26, 2006, are eligible for the 2022 Fellowship. (Students who will be in 11th-grade who were born after that date can apply in the 12th grade.)
Applications for the 2022 cohort are now closed. Applications for the 2023 cohort will open in September 2022. Add your name to our interest form to be notified when applications are open.
Read about our commitment to inclusion and pluralism on the Fellowship.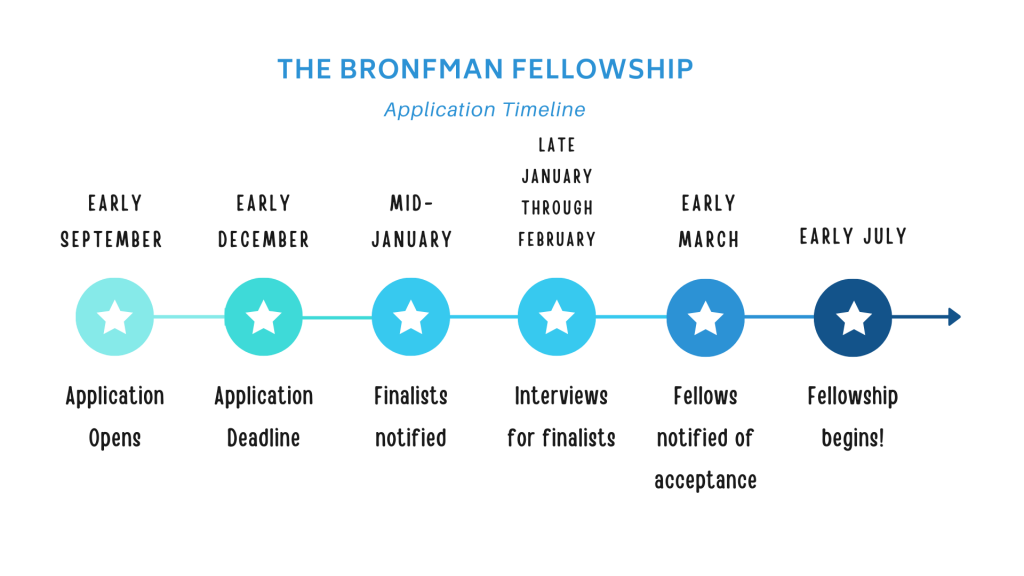 Application Period for the 2022 Cohort:
Application Opens: September 1, 2021.
Keep in mind that your application must include:
Two (2) letters of recommendation from individuals who know you well. At least one of these letters must be from a teacher. The other can be any non-relative who knows you well (including another school professional, Rabbi, employer, etc.).
A high school transcript (through 10th grade).
See a preview of this year's application (to help prepare your application, but this cannot be submitted.)
Quick Application Tutorials:
Virtual Info Sessions:
We held virtual information sessions for educators, prospective applicants and their parents on Wednesday, October 6th and Wednesday, October 13th. Our Executive Director, Education & Programming Director, and recent Fellows spoke about the application process and our Fellowship year. Click here to watch a recording of our Oct. 6th info call.
Application Deadline: Extended to December 14, 2021
Deadline for Supplementary Materials (letters of recommendation & transcript): December 14, 2021
After Submitting Application:
Finalists notified: Mid-January. Finalists will be invited for interviews.
Interviews for Finalists: Late January through February.
Fellows notified of acceptance: Early March 2022
Fellowship Dates for 2022
Summer Seminar: June 27 – August 2, 2022
Winter Seminar: December 16–21, 2022*
Spring Seminar: April 21–25, 2023*
*These dates are subject to change if the international travel of the Amitim (Israeli fellows) is disrupted.
Fellowship Dates for 2021**
Pre-Summer Virtual Orientation: Date TBA
Summer Seminar: July 6 – August 2, 2021
Monthly Zoom Sessions: Dates TBA
Winter Seminar: January 13 – 18, 2022
Spring Seminar: April 6 – 13, 2022
**Read more about how The Bronfman Fellowship has responded to COVID-19 and will continue to keep our programming going while prioritizing participant health.
Resources:
Download our application tips.