Dates and Venue
Check back soon for the dates for our 2022 cohort. For our 2022 Fellowship, we are planning on resuming our regular summer program in Israel (assuming the safety of travel), followed by monthly virtual programming and in-person Winter and Spring Seminars in the U.S.
2021 Dates
Application Deadline: For the 2021 cohort, we extended the application deadline to January 5, 2021.
Pre-Summer Virtual Orientation: Date TBA
Summer Seminar: July 6 – August 2, 2021
Monthly Zoom Sessions: Dates TBA
Winter Seminar: January 13-18, 2022
Spring Seminar: April 6-13, 2022
2021 Summer Venue
The 2021 Summer Seminar will be held at the Isabella Freedman Jewish Retreat Center, a 400-acre campus featuring a lake, hiking trails and lush meadows, in the foothills of the Berkshire Mountains in Connecticut.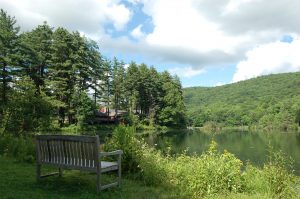 *Read more about how The Bronfman Fellowship has responded to COVID-19 and will continue to keep our programming going while prioritizing participant health.