The Bronfman Fellowship to Launch Artist Residency Program: Visiting Artists to Teach and Create Jewish Art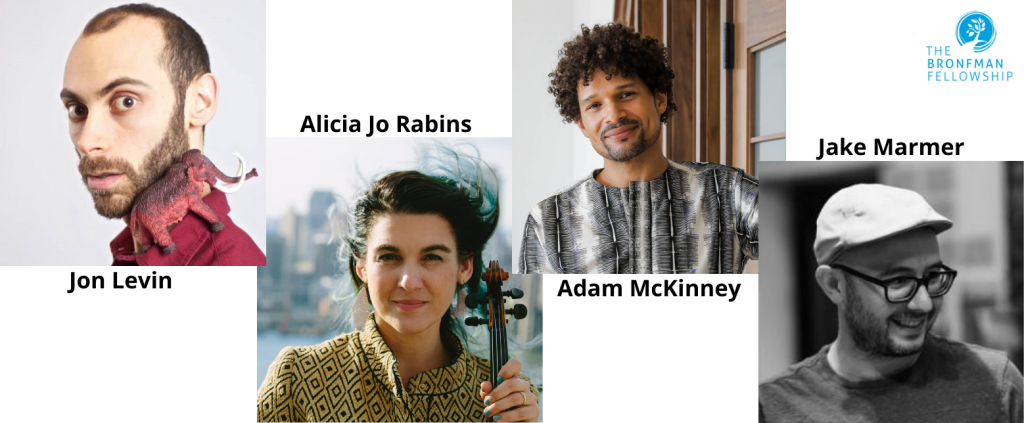 The Bronfman Fellowship is launching an innovative Artist Residency program this summer, in which a group of contemporary Jewish artists will join the Fellowship's 35th cohort to guide the Fellows on a journey of self-discovery and artistic creation, while simultaneously developing their own independent projects and contributing to the world of North American Jewish art. This program represents an expanded, wider-reaching version of the Fellowship's pilot program last year, and is in addition to the Fellowship's longstanding, immersive curriculum in which Fellows explore a wide range of Jewish texts, from classic rabbinic sources to contemporary Israeli and American voices. The Bronfman Fellowship has selected a trailblazing group of Visiting Artists to join its esteemed educational team: Jon Levin, Adam McKinney, Alicia Jo Rabins, and Education and Programming Director Jake Marmer, all leading innovators in Jewish art, will participate in the 2021 Artist Residency program.
The Bronfman Fellowship is a year-long, transformative experience of study and conversation centered around pluralism, social responsibility and Jewish texts, participated in by twenty-six Jewish teens from across North America, who were chosen following a competitive application process. Although the Fellowship typically begins with a 5-week summer in Israel, this year's immersive summer program is taking place domestically, at the Isabella Freedman Jewish Retreat Center in Connecticut, due to concerns relating to COVID-19. Fellows will have the opportunity to participate in one of four different arts tracks this summer. Each artist will teach workshops in their discipline to a small group of Fellows, as well as present and perform their work to the whole cohort. The workshops aim to use art to enhance the Fellows' connection with one another, and empower them to add their voices to the rich tapestry of Jewish culture and ideas.
As an exciting new component of this program, the Visiting Artists will have access to studio space in which they can spend time on their craft and work on their own independent projects. This period of artistic creation will be enhanced by opportunities to learn with, receive inspiration from, and be in conversation with the other Visiting Artists, each of whom specializes in a different type of art and comes from a significantly different Jewish background. The independent projects that come out of this Residency program will be shared with the Bronfman community over the coming year, and eventually with the wider world.
"It's rare to have an opportunity to combine creating art with a committed teaching practice," said Visiting Artist Alicia Jo Rabins. "Working with students inspires me, so I'm excited to be able to spend time on my own creative projects while facilitating the Fellows' personal growth. After over a year working in relative isolation, I'm delighted to have dedicated space and time for creative work in community with other artists."
Through this one-of-a-kind initiative, The Bronfman Fellowship seeks to expand and deepen its educational program, while also contributing to the broader ecosystem of Jewish culture, facilitating engagement with Jewish ideas through an artistic lens.
The three Visiting Artists as well Bronfman's Education and Programming Director Jake Marmer, all widely recognized for their highly innovative approach to Jewish art, will lead arts tracks featuring dance, music, theater, and poetry:
The Visiting Artists will join an esteemed faculty of Rabbis and educators including Rabbi Adina Allen, co-founder and Creative Director of Jewish Studio Project (JSP); Evan Parks, doctoral candidate in German and Comparative Literature at Columbia University; Rabbi Dr. Micha'el Rosenberg, associate professor of Rabbinics and member of the tenured faculty of Hebrew College; and Darshanit Dr. Miriam Udel, associate professor of German Studies and Jewish Studies at Emory University.
"The arts tracks complement the deep, intellectual approach to Jewish knowledge that's been a part of The Bronfman Fellowship since its inception," Education and Programming Director Jake Marmer said. "Art strengthens the Fellowship's vision of pluralism because it allows you to see and hear the deeply personal contexts people are coming from. When you read a poem or listen to a song, empathy is not an abstract concept; you're inhabiting somebody else's personal vision, fraught with these very human ambiguities and self-contradictions." He added that art is a counterpoint to the tendency towards superficiality and shallowness in today's society. "Unlike brief snatches of social media and hyped-up news, art lets you immerse yourself in other people's narratives, to respond, and build real connections with them."
Alumni of The Bronfman Fellowship are community builders, deep thinkers, moral voices, and cultural creators. There are now over 1300 Bronfman Fellowship alumni across North America and Israel. The Fellowship encourages Fellows and alumni to use their talents and creativity to make a significant impact on the world. Notable alumni in the arts include Aryeh Nussbaum Cohen, award-winning operatic counter-tenor; Jonathan Safran Foer, author of Everything Is Illuminated; Dara Horn, novelist of Jewish life; Joshua Meyer, internationally exhibited oil painter; Deborah Sacks Mintz, musician and Community Singing Consultant for Hadar's Rising Song Institute; and Itamar Moses, Tony award-winning playwright for The Band's Visit.
The Visiting Artists will begin their work with The Bronfman Fellowship on July 19th.