The Bronfman Fellowship Announces Its 35th Cohort
Outstanding High School Students from Diverse Jewish Backgrounds Selected to Study Together and Join a Dynamic Community of North American and Israeli Leaders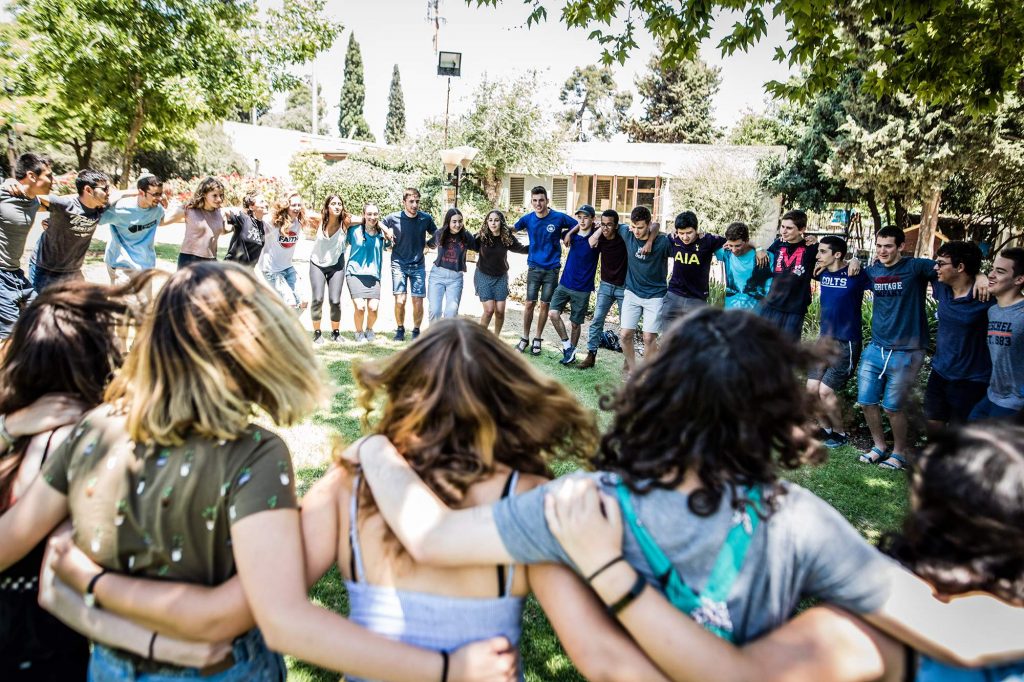 June 2021 — The Bronfman Fellowship has selected its 35th cohort of intellectually curious 11th-graders from across North America, among them a governor-appointed member of the Illinois Holocaust and Genocide Commission; a youth leader in the U.S. Air Force Auxiliary—Civil Air Patrol who has attained the grade of Cadet Technical Sergeant; a member of a national all-female mountain bike mentoring program; and the co-director of the student-led initiative Adopt-a-Neighbor, which provides free, virtual tutoring to students in need.
The 26 Fellows, chosen from 177 applicants, will participate in a transformative Fellowship-year experience of study and conversation centered around pluralism, social responsibility and Jewish texts. They also interact with a group of Israeli peers who were chosen through a parallel selection process as part of the Israeli Fellowship, Amitei Bronfman. The new class of Fellows will join a vibrant alumni network that includes some of today's most exciting Jewish writers, thinkers and leaders.
The 2021 Fellowship year will begin with an immersive summer at the Isabella Freedman Jewish Retreat Center in the Berkshire Mountains of Connecticut. This one-time decision to hold the summer experience in the U.S. instead of Israel was made in close consultation with public health experts in response to the pandemic, to offer the greatest possible opportunity to safely bring the group together for the summer and continue their tradition of immersive in-person learning and community-building.
The Bronfman Fellowship was founded in 1987 by Edgar M. Bronfman, z"l, formerly CEO of the Seagram Company Ltd. and a visionary Jewish philanthropist. Mr. Bronfman passed away in December 2013.
"Edgar Bronfman would have relished the opportunity to get to know this year's Fellows," said Becky Voorwinde, Executive Director of The Bronfman Fellowship. "They are a passionate, inquisitive, talented and incredibly bright bunch. I look forward to seeing them challenge and inspire one another and their communities throughout their lives."
Adam R. Bronfman, president of The Samuel Bronfman Foundation, said he was "impressed and heartened" by the new cohort. "The energy, diversity and intellectual firepower of this group speak to my father's belief that young people can change the world in ways that previous generations couldn't have envisioned," he said. "My father treasured the Fellowship as an investment in the Jewish future, and I am proud to continue his work. It brings me joy to witness the magic that happens when Jews from all backgrounds come together to access Jewish wisdom and have important conversations. I look forward to getting to know the 2021 Fellows personally, and to joining some of those conversations myself."
Following a competitive application process, the 2021 Fellows are from 13 states, the District of Columbia and Canada, and represent a wide range of Jewish backgrounds, including Orthodox, Conservative, Reform, Just Jewish and secularly/culturally Jewish.
The Fellowship promotes the study of Jewish texts, traditions, history and culture as a way for Fellows to engage with each other and the world. The Fellows will study with an esteemed faculty, including Jake Marmer, Education and Programming Director of The Bronfman Fellowship, author of three poetry collections, and contributing editor/poetry critic for Tablet Magazine; Rabbi Adina Allen, co-founder and Creative Director of Jewish Studio Project (JSP); Evan Parks, doctoral candidate in German and Comparative Literature at Columbia University; Rabbi Dr. Micha'el Rosenberg, associate professor of Rabbinics and member of the tenured faculty of Hebrew College; and Darshanit Dr. Miriam Udel, associate professor of German Studies and Jewish Studies at Emory University. In addition, the Fellows will engage in hands-on art-making with three Visiting Artists who are leading innovators in the field of Jewish art: Jon Levin, a director, performer, and puppeteer; Adam W. McKinney, a dancer and choreographer who served as the U.S. Embassy Culture Connect Envoy to South Africa; and Alicia Jo Rabins, a writer, musician, performer and Torah teacher.
Alumni of The Bronfman Fellowship are community builders, deep thinkers, moral voices, and cultural creators. There are now over 1300 Bronfman Fellowship alumni across North America and Israel. Among them are 7 Rhodes Scholars, 4 former Supreme Court clerks, 19 Fulbright Scholars, 37 Wexner Fellows and 27 Dorot Fellows. Leaders of note among Fellowship alumni include Daniel Handler, a.k.a. Lemony Snicket, author of the best-selling Series of Unfortunate Events children's books; Jonathan Safran Foer, author of Everything Is Illuminated; and Rabbi Angela Warnick Buchdahl, the first woman to be named Senior Rabbi at New York's Central Synagogue and the first Asian-American person to be ordained as a rabbi and cantor. Others include Anne Dreazen, Director for Iraq Policy in the Office of the Secretary of Defense; Dara Horn, author of A Guide for the Perplexed; Itamar Moses, Tony award-winner for The Band's Visit; and Anya Kamenetz, lead education blogger at NPR and one of the youngest people ever nominated for a Pulitzer Prize. Alumni also include entrepreneurial Jewish leaders who have founded organizations like the Kavana Cooperative, Keshet, Sefaria, and YidLife Crisis; and serve in central leadership roles at major organizations like The Shalom Hartman Institute of North America, the Jewish Women's Archive, Central Synagogue, Hillel International and The Foundation for Jewish Camp, to name a few.
Our Israeli alumni have also ascended to positions of influence in government, civil groups, the private sector and cultural institutions. Israeli alumni include attorneys at the State Justice Department, noted journalists, successful filmmakers (including a Tribeca Film Festival winner), political advisers to Members of Knesset, members of elite IDF units and university lecturers.
About The Bronfman Fellowship
The Bronfman Fellowship, the flagship program for outstanding young Jews, taps 26 North American teenagers at a formative point in their lives, the year before college, when an intense, immersive experience will have the most impact. The Fellowship year functions as a Jewish identity incubator, with serious text study, lessons taught by some of the world's premier Jewish educators, and sustained discourse about pluralism, social justice and the future of Jewish peoplehood. The year begins with a five-week summer study program that typically takes place in Israel and includes a transformative week-long encounter with a parallel cadre of outstanding Israeli teenagers. Programming continues with two seminars in the United States focused on North American Jewish identity. Upon graduating high school, the Fellows join an alumni community whose members inspire one another to contribute their talents and vision to the Jewish community and the world.
The Fellowship, founded in 1987 by Edgar M. Bronfman, z"l, reflects Mr. Bronfman's early and impassioned belief that for the Jewish people to thrive, Israeli and American Jews from a variety of backgrounds must be engaged in open and creative discourse with one another. The alumni embody Mr. Bronfman's vision that young people who are enriched and energized by their Judaism are poised to contribute not only to Jewish life, but to improving the world.
For more information about The Bronfman Fellowship, including how to apply, please visit www.bronfman.org.
Contact Information
Stefanie Weisman
stefanie@bronfman.org
The Bronfman Fellowship
Following is a list of 2021 Bronfman Fellows. Pictures available upon request.
California
Foster City, CA. Yossi Moff is currently a junior at Aragon High School. Having grown up surrounded by supportive family and Jewish communities, Yossi hopes to lead a life steeped in Jewish values and traditions. He attended Ronald C. Wornick Jewish Day School through 8th grade, supplementing his Jewish engagement with weekly Shabbat services at Peninsula Sinai Congregation during the year and spending summers at Camp Ramah in Northern California. Yossi is proudly involved in his local USY (United Synagogue Youth) chapter and region, and is excited to continue to grow regional involvement and social connection in his continued leadership role next year. At his high school, Yossi is the founder and president of the Aragon Current Events club. Through this, Yossi and his fellow club officers have founded the Building Bridges program: recognizing the need for student-led initiatives to promote connections and community building, they are working to launch a freshman program that aims to create a culture of listening and understanding the nuanced personal stories of fellow high school peers. He also participates in a student-led volunteer group, Science For Students By Students, in which he and his peers create and present science content to 5th and 6th-grade students in underserved communities. In his spare time, Yossi enjoys skiing, playing piano, and practicing tennis.
Lafayette, CA. Ephraim Shalunov, a junior from Lafayette, CA, has spent his adolescence exemplifying his family's Jewish values of education and service. Spending his time in high school independently taking classes through community colleges, after-school programs, and more, he's also a youth leader in the uniformed U.S. Air Force Auxiliary—Civil Air Patrol. Attaining the grade of Cadet Technical Sergeant, he's earned the Disaster Relief Award with V-Device for service throughout the COVID-19 pandemic. A life-long debater and a Jew deeply connected to his homeland and Zionism, in 2019 Ephraim founded his own political organization, AKIN. With it, he's working to build the US-Israeli non-partisan relationship by speaking to members of Congress, raising awareness, and building a nationwide student & community network. He works as a software engineering Intern at Clostra, an AI Research Company, working on front-end development and time-series data anomaly detection. He loves to rock climb, learning to fly, and discussing politics, theology, and history.
Los Angeles, CA. Beverly Cohen is a junior at Marlborough School in Los Angeles. She identifies as Modern Orthodox, and has been a lifelong member of B'nai David-Judea congregation. In her free time she volunteers at Teen Line, at which she has been a hotline responder for three years. Through her work at Teen Line, she has been able to speak to teens at schools as well as news organizations such as NHK Japan. She is a member of the audition-only, advanced theater group Marlborough Ensemble Theater, which culminates in a fully produced ensemble production. For the past two years, Beverly has served on Student Council as the community outreach representative, which is an elected position that involves the coordinating and promoting of service projects. She is also politically active, and last year attended the Iowa caucus as a student journalist. Beverly has also participated in the Certificate of Merit music evaluation for vocal, and has received state honors, branch honors, and convention distinctions. She is an alumni of the Great Jewish Books program at the Yiddish Book Center, at which she learned about the historical and contemporary importance of Jewish literature.
Redding, CA. Eva Hecht is a junior at University Preparatory School. She's very active on campus, especially in choir and jazz band, where she plays the baritone saxophone. She's also a member of the Board of her synagogue, Temple Beth Israel. Because of her location in close proximity to nature, Eva has grown up with a strong sense of connection to her environment. She spent many of her childhood summers at her local outdoor school, Whiskeytown Environmental School (WES), which was affected by the Carr fire in 2018. She now volunteers with WES Community, a nonprofit whose main goal is to rebuild the WES campus and ensure that future generations of children from Shasta County have access to environmental education. Eva has been drawn to The Bronfman Fellowship for years because of its emphasis on pluralism, and she's thrilled to now be a part of the program.
District of Columbia
Washington D.C. Meyer Leff is a junior at Georgetown Day School. He is an editor for his school's literary magazine and loves writing plays and other fiction. Meyer is working on a book of 200 movies he thinks every person should watch. He also enjoys nature and has been playing music since elementary school.
Washington D.C. Josie Reich is a student at School ​Without Walls Senior High School. She is an active member of the school community, from founding the literary magazine to serving as president of the drama club and vice president of the debate team. She is also representing SWW in the 2021 Public Forum Debate National Championships. Josie is passionate about politics and worked as a field organizer on a Congressional campaign in North Carolina this past election season. She has performed in over a dozen musical productions, placed 3rd in the Charles Williams Vocal Competition for classical singing, and is a Student of Distinction at Levine School of Music.
Washington D.C. Ma'ayan Stutman-Shaw is a junior at Georgetown Day School in Washington, D.C. While she has never strongly identified with a particular Jewish denomination, many of her Jewish beliefs align with the Reconstructionist movement. At school, Ma'ayan is the co-lead of the Jewish Student Coalition, an elected grade representative for Student Government, and an active participant in Fata Morgana, her school's student-run, student-led dance company. Ma'ayan is also a co-lead for her school's Annual Summit Addressing Sexual Assault and Consent, a day of learning that attracts approximately 400 participants from all across North America every year. She has continued pursuing her passion for topics surrounding sexual assault and consent by interning at I Have The Right To – an organization that supports survivors of sexual assault and their families – and the US District Court. An active participant in her school's Student Action Committee, Ma'ayan has lobbied at the congressional level for DC statehood, voter protection legislation, and rights for survivors of sexual assault and harassment. Ma'ayan is also a recent alumna of the Jewish Women's Archive Rising Voices Fellowship, having spent the past year exploring her Jewish and feminist identities through writing, learning, and discussion. In her free time, Ma'ayan can often be found scrolling through photo albums from her time as a camper at Camp Havaya, the only Reconstructionist sleepaway camp in the country, and her seven short weeks on Tichon Ramah Yerushalayim, Ramah's Israel semester abroad program.
Illinois
Chicago, IL. Jack Goodman is a junior at Walter Payton College Prep in Chicago. A graduate of Bernard Zell Anshe Emet Day School, Jack is passionate about promoting Holocaust education and memory. He pursues this passion through an internship at Unsilence, a civics education not-for-profit for which he performed data analysis and helped create a 10-year retrospective report. Jack has also been appointed by Governor J.B. Pritzker to the Illinois Holocaust and Genocide Commission, where he is providing a student's perspective to the body's efforts. An avid creative writer, Jack's work is forthcoming in the Scholastic Art & Writing Awards' publication, The Best Teen Writing of 2021. Jack also tutors adult ESL students with Literacy Chicago, is a member of the Payton slam poetry team, serves as a Training Chair (and passionate delegate!) on his school's Model UN team, and is a reader for the magazine Frontier Poetry.
Kansas
Overland Park, KS. Tyler Johnson is a rising senior at Hyman Brand Hebrew Academy. He's attended the school for ten years, and has studied Hebrew and Judaic Studies alongside secular studies. Tyler is a member of the Maimonides Chapter of the National Honor Society, Quill and Scroll Honor Society, Editor-in-Chief of HBHA's student newspaper RampageWired, and a member of the Coterie Theatre's Young Playwrights Roundtable.
Maryland
Silver Spring, MD. Benjamin Guggenheim is a Modern Orthodox Jewish student living in Silver Spring, MD, who is a junior at the Charles E. Smith Jewish Day School. Benjamin runs a monthly podcast called "Parabiblica for the Perplexed" about the ancient Jewish works that did not make it into the Hebrew Bible. He is a captain of his school's Mock Trial team and runs varsity track and cross country. He attends Kemp Mill Synagogue.
New Hampshire
Dover, NH. Eleanor Bolker is an 11th-grader from Dover, NH. She attends Phillips Exeter Academy and is an active member of the Exeter Jewish Community. Eleanor is involved with PEA's annual Puzzlehunt, WPEA (student radio), the intersectional coalition, and the school's MLK Day Committee. She also volunteers at Strawbery Banke Museum in Portsmouth and the Appledore Island Migratory Bird Banding Station on Appledore Island, Maine. Eleanor enjoys reading in English and German, writing, math, and physics.
New Jersey
Montclair, NJ. Caleb Levine has attended public school since childhood. Interested in public policy and history, he is a member of his high school's Civics and Government Institute, active in both Model Congress and United Nations, and a political advocate on the federal, state and municipal levels. He loves to work with children as a babysitter of a particularly rambunctious four-year-old; as a teacher's assistant at his synagogue's religious school, where he helps developmentally challenged students learn Hebrew; and as a volunteer tutor of recently-immigrated peers from the Middle East and Central America. In his free time, he enjoys listening to and creating music, playing sports, and hanging out with his friends.
Teaneck, NJ. Reyna Perelis is a junior at SAR High School, a Modern Orthodox co-ed school in the Bronx, and goes to Camp Stone. A fierce lover of all things outdoors, Reyna enjoys hiking with her family, embarking on biking adventures with friends, and learning about climate action. In her free time, Reyna hangs out with her siblings, reads, and explores her neighborhood with a sketchbook. She is a member of SAR's Model UN team, learns daf yomi, and tutors bat mitzvah girls. Reyna loves engaging in big conversations, and is excited to learn from the fellows this summer.
New Mexico
Albuquerque, NM. Nina Sandman is a junior at Albuquerque Academy. Her favorite subjects include Spanish and Music Theory. At school, she participates in the Steel Drum Band and the Unaccompanied Minors, an a cappella group. She is also part of the Albuquerque Involved youth leadership program (Albuquerque Involved Mentees). She attends Congregation Albert, which is a reform congregation in Albuquerque.
New York
Bronx, NY. Yona Sperling-Milner is a proud Orthodox Jew from Riverdale, NY, and Washington, DC. She currently attends SAR High School in the Bronx, where her favorite classes include American History, Calculus, and Tanakh. As captain of the Environmental Club, she has organized local litter cleanups, a clothing swap, climate policy lobbying sessions, fundraisers, a composting system, and more. She also founded and leads the Uighur Advocacy Club, as well as the Hyphenated Last Name Support Group, which she is pretty sure is the first of its kind anywhere. She is editor-in-chief of a seasonal Torah journal and a biweekly Israel newsletter, and participates in Mock Trial, Student Council, math team, Israel Advocacy Club, College Bowl, Torah Bowl, Meteorology Club, and Politics Club. She is part of the Tikvah Scholars Forum, AJC Leaders for Tomorrow, a Gemara chaburah with her principal, and AIPAC's Saban Leadership Seminar. Yona has a passion for good governance and climate action, and has interned on congressional and City Council campaigns. In her free time, Yona enjoys birdwatching, learning daf yomi, reading presidential biographies, and spending time with her family.
Brooklyn, NY. Maya Renaud-Levine is a high school junior at The Beacon School, and was born and raised in Brooklyn, NY. Though her family spans a broad range of Judaism – from modern orthodox relatives in England to Holocaust survivors in Brazil – she belongs to Congregation Beth Elohim, a Reform synagogue where she attends and teaches Hebrew school. In her experience with politically passionate clergy, and her time spent at a sleepaway camp founded by Yiddish labor unionists, she has learned that Judaism is a platform for discourse and social justice. Outside of religious life, Maya dedicates much of her time to the arts: she sings in Brooklyn Youth Chorus' Concert Ensemble three times a week, rehearsing, touring, and collaborating with professional artists, and plays classical piano. Recently, she has been trying her hand at poetry, and spends her free time reading, drawing, listening to podcasts, taking walks with friends, and playing word games with anyone she can. The Bronfman Fellowship is the opportunity she has been waiting for to merge her interests in politics, the arts, literature and Judaism, and she is ecstatic to have the opportunity to participate.
Dobbs Ferry, NY. Angelina Palumbo is in 11th grade at The Leffell School. She is an active member at her synagogue, Chabad of the River Towns. Angelina has had many Jewish opportunities, including attending an international music convention (MekoRock) held in Israel in 2019. She has met Jewish teens from around the world, including Moldova, Ukraine, Israel, and the Dominican Republic.
Larchmont, NY. Ari Kass-Amsterdam is a junior at Mamaroneck high School. He still has fond memories of his Jewish preschool. He has also attended his Reconstructionist synagogue's Hebrew school program since he was a toddler, and now works as a madrich for younger classes in addition to attending the weekly high school classes. During the summers he normally attends the URJ sleepaway camp Eisner. As a theater enthusiast he has been in countless plays and musicals both in and out of school as well as several auditioned choirs. At school, Ari is a member of the SEC (social events committee) and the policy debate team. Out of school Ari likes to spend his free time playing board, card and roleplaying games with friends or at his local game store. While Ari enjoys the opportunities he has had to learn and discuss Judaism so far, he is thrilled to meet and learn from people with completely different Jewish views this summer.
New York, NY. Ryder Lippman is a junior at Hunter College High School on the Upper East Side of Manhattan. He is a musician, a writer, a collaborator and community builder. He recently released an EP of his original music, and has also scored music for live theatre, video and documentary short film. He is a talented multi-instrumentalist, playing in several of his school's jazz bands, as well as performing and producing music for Urban Garage, a teen music collaborative and guided jam. Ryder's writing has been recognized twice by the national Scholastic Art & Writing Awards; he has won three gold medals in French in the Concours National French language contest, and he is co-founder and Editor-in-Chief of Noteworthy, HCHS's only publication dedicated to music at his school.
New York, NY. Talia Namdar-Cohen is an 11th grader at the Abraham Joshua Heschel School in Manhattan. Having attended a traditional egalitarian minyan (Congregation Ansche Hesed) all her life, she is steeped in Jewish learning and tradition, and is invested in issues of Jewish feminism and the role of women in the Jewish community. Talia is very active in her school life; she serves as a Vice President of the student government, the captain of the Mock Trial team, a peer advisor to underclassman, and a leader in the Model UN team. She is also one of the co-directors of a student-led initiative called Adopt-a-Neighbor, an organization that provides free, virtual tutoring to students in need. This initiative began in the midst of pandemic when many students were falling behind due to their lack of support at home and inability to adjust to distant learning. She is also one of the founders of JASA next Gen, a project supported by JASA whose mission is to raise awareness of elder abuse and food insecurity in and out of the Jewish community. Talia is very connected to her Israeli Iranian roots and speaks fluent Hebrew.
Ohio
Beachwood, OH. Ilan Haas is a Modern Orthodox Jew who attended the Mandel Jewish Day School. He is currently attending Beachwood High School, where he has been awarded the Cleveland Technical Societies Council's Honor Juniors Award. He is a member of Cross Country, the Ski Club, and is attending the Tikvah Online Academy. He has been playing piano for more than ten years, has been a National Member of the National Piano Playing Auditions Guild for five years, and is currently a candidate for a High School diploma in music.
Pennsylvania
Philadelphia, PA. Naomi Isaac-Hyman is a rising HS senior at The Episcopal Academy in Newtown Square, PA, which she has attended for thirteen years. She lives in West Philadelphia, where she and her family belong to Kol Tzedek Synagogue. Naomi is a leader in her grade's Global Youth Leadership Institute (GYLI) group at school, which is working on creating a more inclusive student culture at EA. She is a junior mentor with Little Bella's: Mentoring on Mountain Bikes, a national all-female mountain bike mentoring program. She has written articles for the school newspaper and is also the founder and president of Fantastic Nerds and Where to Find Them, a 'nerd club' at her high school. She has received a Cappie Award for music composition, in her school's production of A Midsummer Night's Dream. She has been playing the violin for over ten years, since the age of seven, and serves on her high school's Orchestra Committee. She was a solo violinist in Tania Isaac's "Sanctuary" – part of Reggie Wilson's "Grounds that Shout" in Philadelphia, a project of Partners for Sacred Spaces (Philadelphia), DanceSpace Project (NYC), and funded by the Pew Center for Arts & Heritage (Philadelphia). Naomi loves reading, mountain biking, crocheting, camping, birdwatching, and playing the violin. She was a Diller Teen Fellow and is currently on the Diller Philly alumni committee. As a Jew of Color, with her mom from the Caribbean and her dad from the Midwest United States, Naomi has written several research papers for school relating either to Judaism or the Caribbean. Her most recent research paper, "Where Have They Been?: Caribbean Immigrant Writers in the Harlem Renaissance," outlines a brief historiography of some of the Harlem Renaissance's most significant figures, including Claude McKay, Marcus Garvey, Arthur Schomburg, Eric Walrond, and Eulalie Spence.
Texas
Bellaire, TX. Josh Siegel is a rising senior at the St. John's School. He is a member of the Reform Jewish Synagogue, Beth Israel. Josh has a passion for studying foreign languages and has studied Arabic, Latin, and Spanish. As a student at St. John's School, he was president of his class for his sophomore and junior years and will be serving as a Prefect on the Student Affairs Council for his senior year. A keen musician, Josh participates in band, jazz band and choir, and has sung in the all-region choir since his freshman year. He is a project leader for his school's summer refugee student tutoring program, Summer Express, and is also the student project leader for the Urban Harvest Farmers Market in Houston. He is a co-captain for a multi-school team of the American Rocketry Competition.
Utah
Logan, UT. Katherine Bulthuis is entering her senior year at Logan High School and is a congregant at Brith Sholem in Ogden. As a Congress-Bundestag Youth Exchange fellow and member of her school's German Club, Katherine seeks to reconcile her Jewish and German identity through learning about and interacting with modern Jewish-German communities.
Virginia
Arlington, VA. Mia Shenkman is an 11th-grader in the IB program at Washington-Liberty High School in Arlington, VA. She attends Temple Rodef Shalom where she leads civic engagement programs as the Social Action Vice President for the synagogue's teen youth group. Through school, she participates in the National Poetry Out Loud recitation contest where she twice won regional finals and went on to participate in the state finals. Inspired by her passion for public speaking and poetry, Mia founded the Spoken Word and Storytelling club at her school where students connect through the art of storytelling. Additionally, Mia is passionate about local politics and works to further gender equality as a member of Generation Ratify Virginia, a youth led advocacy organization. In her spare time, Mia plays trumpet in her school's marching band and goes on hiking and backpacking trips.
Canada
London, ON. Micaela Mellicovsky is a student at Sir Frederick Banting S.S. in the French Immersion program. She participates in her school's Reach For The Top team and is co-president of her school's DECA chapter. She currently works part-time at a local enrichment center teaching students math and reading, and is passionate about education. Although she does not currently attend any temple, Micaela enjoys celebrating the Jewish holidays at home with her parents and two sisters. She is very excited about meeting other Jewish people from around North America and for all of the learning opportunities The Bronfman Fellowship offers.