The Bronfman Fellowship Announces Its 36th Application Season
Intellectually Curious High School Students from Diverse Jewish Backgrounds to Study Together
and Join a Dynamic Community of North American and Israeli Leaders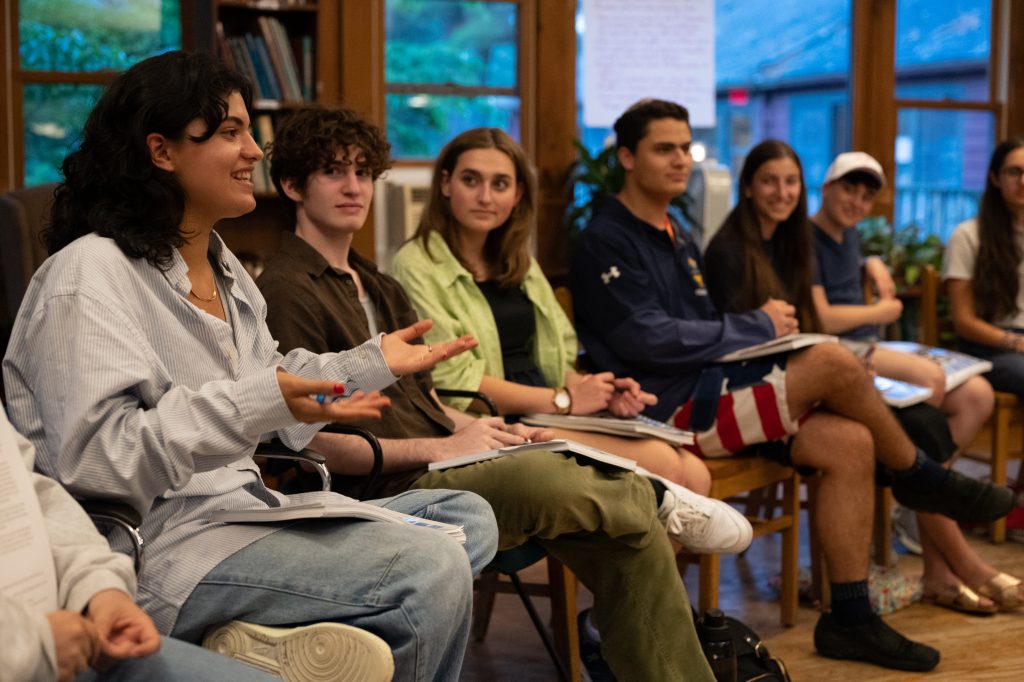 New York, NY- September 2021. The Bronfman Fellowship is pleased to announce that applications are now being accepted for the 36th cohort of this transformative program. The Fellowship selects twenty-six outstanding North American teenagers for an intellectually challenging year of programming that begins with a free summer in Israel between the Fellows' junior and senior years of high school, followed by monthly virtual experiences and two seminars in the U.S. The program educates and inspires exceptional young Jews from diverse backgrounds to have a significant impact on the world as community builders, deep thinkers, moral voices, and cultural creators. The nonprofit Fellowship was founded by Edgar M. Bronfman, z"l, formerly CEO of the Seagram Company Ltd. and a visionary Jewish philanthropist.
For 36 years, Bronfman Fellows have built a pluralistic community through a transformative, intellectual and deeply personal journey in which they have the opportunity to see the world through a lens broader than their own. Inspired by a stellar faculty of Rabbis and educators, Fellows explore a wide range of Jewish texts, from classic religious works to contemporary poetry and philosophy, using these sources to spark conversations, engage with stimulating existential questions, and achieve a deeper understanding of themselves and one another.
In addition to learning with stellar educators, Fellows also have the unique opportunity to engage with leading intellectuals, artists, and religious and cultural leaders. Past speakers have included journalist Matti Friedman; author Nicole Krauss; musician and Yiddish scholar Anthony Russell; and Torah scholar Dr. Avivah Zornberg.
Fellows also interact with a group of Israeli peers who were chosen through a parallel selection process by the Israeli branch of the Fellowship, Amitei Bronfman. Additionally, they have the opportunity to participate in the Fellowship's arts tracks: workshops in areas including poetry, dance, drama, visual narrative, and music taught by leading innovators in the field of Jewish art. Upon returning home from the summer in Israel, Fellows also explore major themes in North American Jewish life.
"My father, Edgar M. Bronfman, placed enormous faith in young people's ability to see the world not just as it is, but as it ought to be," said Adam R. Bronfman, President of The Samuel Bronfman Foundation. "He believed that young people energized by their Judaism were best equipped to both shape a Jewish 'Renaissance' and improve the world."
"The Fellowship is an opportunity for dynamic personal and intellectual growth in a group of carefully chosen peers," said Becky Voorwinde, Executive Director. "We seek to increase communication between young people across the Jewish spectrum including fostering bonds between Jews in North America and Israel. This program serves as a creative force that has inspired some of our best Jewish young adults to become creative leaders in their communities."
Alumni of The Bronfman Fellowship are leaders in their community, playing key roles in fields such as social justice, academia, law, and the arts. There are now over 1300 Bronfman Fellowship alumni across North America and Israel. Among them are 7 Rhodes Scholars, 4 former Supreme Court clerks, 19 Fulbright Scholars, 37 Wexner Fellows and 27 Dorot Fellows. Leaders of note among Fellowship alumni include Daniel Handler, a.k.a. Lemony Snicket, author of the best-selling Series of Unfortunate Events children's books; Jonathan Safran Foer, author of Everything Is Illuminated; and Rabbi Angela Warnick Buchdahl, the first woman to be named Senior Rabbi at New York's Central Synagogue and the first Asian-American person to be ordained as a rabbi and cantor. Others include Anne Dreazen, Director for the Levant at the Department of Defense; Dara Horn, author of A Guide for the Perplexed; Itamar Moses, Tony award-winner for The Band's Visit; and Anya Kamenetz, lead education blogger at NPR and one of the youngest people ever nominated for a Pulitzer Prize. Alumni also include entrepreneurial Jewish leaders who have founded organizations like the Kavana Cooperative, Keshet, Sefaria, and YidLife Crisis; and serve in central leadership roles at major organizations like The Shalom Hartman Institute of North America, the Jewish Women's Archive, Central Synagogue, Hillel International and The Foundation for Jewish Camp, to name a few.
Our Israeli alumni have also ascended to positions of influence in government, civil groups, the private sector and cultural institutions. Amitei Bronfman alumni include attorneys at the State Justice Department, noted journalists, successful filmmakers (including a Tribeca Film Festival winner), political advisers to Members of Knesset, members of elite IDF units and university lecturers.
Applications for the 2022 Fellowship are due December 8, 2021, and are available online at bronfman.org. High school students in the United States and Canada who self-identify as Jewish and who will be in the eleventh grade in the fall of 2021 are eligible to apply. The Fellowship is a pluralistic program for Jews of all backgrounds; prior Jewish education is not required.
About The Bronfman Fellowship
The Bronfman Fellowship, the flagship program for intellectually adventurous young Jews, taps 26 North American teenagers at a formative point in their lives, the year before college, when an intense, immersive experience will have the most impact. The Fellowship year functions as a Jewish identity incubator, with serious text study, lessons taught by some of the world's premier Jewish educators, and sustained discourse about pluralism, social justice and the future of Jewish peoplehood. The year begins with a five-week summer study program in Israel that includes a transformative week-long encounter with a parallel cadre of outstanding Israeli teenagers. Programming continues with monthly virtual experiences and a winter and spring seminar in the United States focused on North American Jewish identity. Upon graduating high school, the Fellows join an alumni community whose members inspire one another to contribute their talents and vision to the Jewish community and the world.
The Fellowship, now in its 36th year, was founded in 1987 by Edgar M. Bronfman, z"l, and reflects Mr. Bronfman's early and impassioned belief that for the Jewish people to thrive, Israeli and American Jews from a variety of backgrounds must be engaged in open and creative discourse with one another. The alumni embody Mr. Bronfman's vision that young people who are enriched and energized by their Judaism are poised to contribute not only to Jewish life, but to improving the world.
For more information about The Bronfman Fellowship, including how to apply, please visit www.bronfman.org.