Current AVF Grantees
2021 Grantees:
Elisabeth Cohen ('01) – "A Depolarizing Artistic Collaboration Between Middle School Students in Red and Blue America"
16 middle-school students from NYC and 16 from Kentucky will participate in a cross-cultural encounter through the lens of artistic collaboration. They will introduce themselves and their communities, then complete projects that express their identities, values, and aspirations — including areas of agreement, complementarity, and conflict.
Priscilla Frank ('06) – "All is Full of Love"
"All is Full of Love" is an experimental, collaborative puppet musical about the love, sex, and fantasy lives of people with disabilities, created by and for people with disabilities. The show's joyous celebration of making love in its many forms will inspire audience members to embrace pleasure as a human right.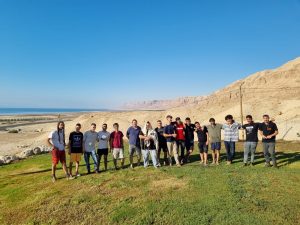 Ariel Gino (Amitei Bronfman '01) – Alumni Community of Ma'ale Erev
"There are now hundreds of Ma'ale High School alumni who are fulfilling the potential of the skills and tools they learned here."
Ariel Gino assessed the needs of the alumni community of Ma'ale High School, a unique educational establishment for at-risk youth, where he works as an educational director. To meet those needs, Ariel will create a pilot series of group sessions with content related to different inflection points in the lives of alumni. (Picture on left.)
Dara Horn ('94) – "One Little Goat"
One Little Goat is a graphic novel for readers 8-12 about a Passover seder where no one can find the afikoman, so the seder can never end. They then discover the thousands of previous seders happening beneath theirs– and they travel down through time to find their way out. (Picture on right.)
Ben Luria (Amitei Bronfman '11) – Access to University
"Closing the gaps between social classes means a great deal to me, and this is a first attempt to do something about this issue."
Information about scholarships for Israelis studying abroad is limited, spread out, and often provided by commercial companies that profit from mediation and consulting. Ben Luria is a Rhodes Scholar who wants to start a website increasing accessibility to information about scholarships, and which shares success stories as well as tips for success. This will help young people from various backgrounds (especially underprivileged backgrounds) in Israel attend the best institutions around the world for their higher education. Ben learned about the Rhodes Scholarship through the Bronfman alumni network, so this project would bring him full circle.
Re'em Sadeh (Amitei Bronfman '07) – Global Health Care
"Sharing knowledge has great value in medicine and in moving forward with health care."
Re'em Sadeh is a medical student who specializes in Point of Care Ultrasound, the "future stethoscope," which was used extensively during the COVID pandemic. With the knowledge he acquired, Re'em will travel to the Kumasi South Hospital in Ghana, where he will train local doctors to use the instrument. His goal is to lay the groundwork for a long-term relationship and collaboration between Israel and Ghana in the medical field, with an Israeli-American team travelling with him in the following years.
Erin Scharff ('99) – "Centering the Immigrant Community"
The Phoenix Legal Action Network (PLAN) helps immigrants remain in the United States, and is the only legal services organization in the region that has been devoted to deportation defense. Erin is leading an effort to engage in critical conversations with immigrant community organizations in the Phoenix-metro area, to center PLAN's legal work on the needs of this community and transition their board composition to reflect this shift.
Ariel Pollock Star ('04) – "Lehem Zeh – Collaborative Bread Workshop"
Lehem Zeh is a new social venture that Ariel founded in Yeruham, Israel, where there are large populations of Moroccan, Indian, and Russian Jews, as well as Bedouins, Ashkenazi Orthodox, and more. The aim of this venture is to support local bakers and offer stories, workshops and cultural experiences centered around traditional and unique breads.
Ayelet Wenger ('11) – The Hebrew University Network for Women in Jewish Studies
The Hebrew University Network for Women in Jewish Studies fosters intellectual community and mutual support among women studying ancient Judaism, particularly Talmud, at the Hebrew University. We aim to promote a culture and create forums in which women can connect with, mentor, and encourage other women in the field.
Omer Yavin (Amitei Bronfman '07) – Simple Math, an Israeli Hip Hop Opera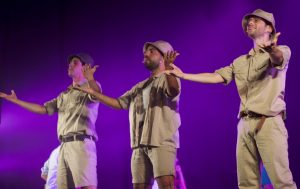 "We aim for a cultural and educational encounter based on Itzhak Rabbin's assassination and the social issues that have risen from it."
Omer Yavin created an original Israeli Hip Hop Opera that explores the life of Itzhak Rabbin and touches on contemporary social issues. The show was created for teenagers and educational institutions as an educational tool to cope with the Prime Minister's assassination and with social issues of the past, present and future of Israeli society. Now that the show is ready to be staged, Yavin is looking for ways to promote it, and needs funding in order to professionally record some of the original songs from the opera. Listen to the finished recording here.