Current AVF Grantees
2021 Grantees:
Elisabeth Cohen ('01) – "A Depolarizing Artistic Collaboration Between Middle School Students in Red and Blue America"
16 middle-school students from NYC and 16 from Kentucky will participate in a cross-cultural encounter through the lens of artistic collaboration. They will introduce themselves and their communities, then complete projects that express their identities, values, and aspirations — including areas of agreement, complementarity, and conflict.
Update: The Depolarizing Artistic Collaboration (currently entitled Mirrors) has been hard at work adapting to changing conditions on the ground. The original partnership with an Eastern Kentucky art teacher fell through because the many challenges her community has faced over the past six months left her without the capacity to undertake our project. We have subsequently initiated a second partnership with the Cowan Community Center, an organization in the same town; we look forward to starting a reboot at the beginning of March. The new, shortened version of Mirrors will start with an intercultural exchange through improvisational storytelling, in a format (called the Story Circle) that is comfortable and familiar to our new East Kentucky partners. After the story exchange, students from both KY and NY will have the option to initiate a project (artistic or action-focused) of their own design with our support.
Priscilla Frank ('06) – "All is Full of Love"
"All is Full of Love" is an experimental, collaborative puppet musical about the love, sex, and fantasy lives of people with disabilities, created by and for people with disabilities. The show's joyous celebration of making love in its many forms will inspire audience members to embrace pleasure as a human right.
Update: The AVF Grant had a major impact on the success of All is Full of Love! It allowed us to pay stipends to the many artists who contributed their time and work to the project. It also allowed us to print playbills that contained the lyrics of every song in the show, allowing viewers to read along with every song. We received feedback that viewers were thrilled to have this document to more clearly understand the emotional and unorthodox lyrics. We also . . . purchased supplies and set pieces… I believe deeply in the relationship between love, spirituality, and sexuality, and felt lucky to be supported by a Jewish organization on a project about sex.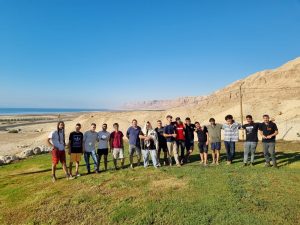 Ariel Gino (Amitei Bronfman '01) – Alumni Community of Ma'ale Erev
"There are now hundreds of Ma'ale High School alumni who are fulfilling the potential of the skills and tools they learned here."
Ariel Gino assessed the needs of the alumni community of Ma'ale High School, a unique educational establishment for at-risk youth, where he works as an educational director. To meet those needs, Ariel will create a pilot series of group sessions with content related to different inflection points in the lives of alumni. (Picture on left.)
Update: Ma'ale Erev is a unique high school that works with teens who dropped out of the educational system. Establishing an alumni community is a new and exciting step for the school's students. This process requires that we, the educators, will be involved in the lives of our students even after they graduate.
The AVF grant allowed us to build a network through which we communicate with our alumni. We have already sent out two newsletters with updates on some of the community member's life events. In addition, we started group therapy for some of our female alumni. The sessions will be led by a professional therapist, and we already have some women who signed up for the first meeting. So far it seems like it will be a great success, and a huge benefit for our community.
Dara Horn ('94) – "One Little Goat"
One Little Goat is a graphic novel for readers 8-12 about a Passover seder where no one can find the afikoman, so the seder can never end. They then discover the thousands of previous seders happening beneath theirs– and they travel down through time to find their way out. (Picture on right.)
Update: I've revised the text of One Little Goat based on feedback from readers in the children's publishing sphere, focusing on making the main character's relationships with his family more clear and compelling. The illustrator Theo Ellsworth has been able to continue with the project, and he has now turned out drawings for almost the entirety of Chapter 2. It's becoming really beautiful! With the revised script and the significantly larger number of sample pages, we're now ready to take the project to publishers and hopefully find it a home.
Ben Luria (Amitei Bronfman '11) – Access to University
"Closing the gaps between social classes means a great deal to me, and this is a first attempt to do something about this issue."
Information about scholarships for Israelis studying abroad is limited, spread out, and often provided by commercial companies that profit from mediation and consulting. Ben Luria is a Rhodes Scholar who wants to start a website increasing accessibility to information about scholarships, and which shares success stories as well as tips for success. This will help young people from various backgrounds (especially underprivileged backgrounds) in Israel attend the best institutions around the world for their higher education. Ben learned about the Rhodes Scholarship through the Bronfman alumni network, so this project would bring him full circle.
Update: Scholars is a website that is built to help Israelis reach opportunities for higher education abroad in the best academic institutions in the world, and to find the proper financing if needed. The AVF made this project possible, and about two weeks ago we actually launched this website. It contains detailed information about scholarships Israelis can apply to. There are approachable guidelines to CV writing, all sorts of applications, etc. We have built a whole community of current and former Israeli students who study all over the world, and people who are yet to be such scholars.
Within the first two weeks of the website's existence, and without even having professional PR, we had 700 visitors and 500 active community members. These numbers are astonishing to us. We are hopeful that we are able to help open new perspectives to young scholars. We already have ideas about how to make this project work even better.
Re'em Sadeh (Amitei Bronfman '07) – Global Health Care
"Sharing knowledge has great value in medicine and in moving forward with health care."
Re'em Sadeh is a medical student who specializes in Point of Care Ultrasound, the "future stethoscope," which was used extensively during the COVID pandemic. With the knowledge he acquired, Re'em will travel to the Kumasi South Hospital in Ghana, where he will train local doctors to use the instrument. His goal is to lay the groundwork for a long-term relationship and collaboration between Israel and Ghana in the medical field, with an Israeli-American team travelling with him in the following years.
Update: Re'em intended to travel to the Kumasi South Hospital in Ghana, where he planned to train local doctors to use the Ultrasound Care of Point tool. His goal is to lay the ground for a long term relationship and collaboration between Israel and Ghana in the medical field, with an Israeli-American team travelling with him in the following years. Due to the COVID-19 pandemic, the project is postponed until travel will be safer.
Erin Scharff ('99) – "Centering the Immigrant Community"
The Phoenix Legal Action Network (PLAN) helps immigrants remain in the United States, and is the only legal services organization in the region that has been devoted to deportation defense. Erin is leading an effort to engage in critical conversations with immigrant community organizations in the Phoenix-metro area, to center PLAN's legal work on the needs of this community and transition their board composition to reflect this shift.
Update: Thanks to the generous seed funding of the AVF, my non-profit, the Phoenix Legal Action Network (PLAN), has been able to build more meaningful partnerships with two immigrant-led, community organizations in the Phoenix area. One of those organizations is Trans Queer Pueblo, which focuses on the needs of LGBT+ migrants of color. The other is Aliento, a DACA and undocumented, youth-led organization that focuses on addressing the well-being and emotional healing of immigrant youth, as well as their leadership development. PLAN now provides regular mentorship to local immigrant leaders and has partnered with these organizations on events. We worked with Trans Queer Pueblo to put on a COVID-19 vaccine clinic and asylum application clinic, developed an online intake form for future immigration screening clinics with Aliento, and held a community education event with Arizona Jews for Justice on rental assistance for immigrants. We have also developed a community legal needs assessment that will guide our hiring priorities as we build out our legal team. PLAN's mission is to promote justice in Arizona by advancing the rights of immigrants and their families. We recognize that to do this we must partner with immigrant-led organizations to build community trust and power. We not only want to provide legal services but also democratize legal knowledge, so that we can dismantle the unjust systems that oppress immigrants. Our AVF grant was our first grant specifically supporting this broader mission, and we feel so thankful to have AVF as a partner for us in this transition. Feel free to drop me a line if you ever find yourself in Phoenix, and please let me know if you have questions about PLAN.
Ariel Pollock Star ('04) – "Lehem Zeh – Collaborative Bread Workshop"
Lehem Zeh is a new social venture that Ariel founded in Yeruham, Israel, where there are large populations of Moroccan, Indian, and Russian Jews, as well as Bedouins, Ashkenazi Orthodox, and more. The aim of this venture is to support local bakers and offer stories, workshops and cultural experiences centered around traditional and unique breads.
Update: Lehem Zeh – Cooperative Bread Workshop has had a very busy fall and winter! We've hosted groups from around the country of all sizes and from all backgrounds for workshops on bread and culture, as well as for brunch and conversation. We've opened our doors to residents of Yeruham and the greater Negev region (as well as tourists) for pop-up sales of breads and treats made by our partner-bakers. We've been featured on TV and in several Hebrew and English media outlets, newspapers and magazines (most recently in "La'Isha," the nationally circulated women's magazine affiliated with Yediot). And we are currently planning our next steps and considering paths for growth, both in terms of a bigger space which will allow us to host bigger groups in our workshop kitchen, as well as offering more tools and a bigger facility to our partner-bakers. Come visit us in Yeruham!
Ayelet Wenger ('11) – The Hebrew University Network for Women in Jewish Studies
The Hebrew University Network for Women in Jewish Studies fosters intellectual community and mutual support among women studying ancient Judaism, particularly Talmud, at the Hebrew University. We aim to promote a culture and create forums in which women can connect with, mentor, and encourage other women in the field.
Update: The Hebrew University Network for Women in Jewish Studies … has formed a core and expanding group this semester, organizing lunches with professors as well as less formal meetings amongst themselves. We met with Dr. Avigail Manekin–Bamberger and Prof. Elisheva Baumgarten, who spoke to us about their research and experiences in the academy. Participants also presented their own research to the group, from the first Hebrew play to the relationships between medieval queens and their Jewish subjects. There's been a great deal of excitement about the project and the conversations that it enables–as one participant wrote to us, "The encounters allowed me to have thoughtful, fascinating and profound conversations with other researchers, women I admired from afar but never got to engage with properly. Meeting them in this sphere has afforded a great deal of inspiration for my own research." We are excited to build on these connections next semester.
Omer Yavin (Amitei Bronfman '07) – Simple Math, an Israeli Hip Hop Opera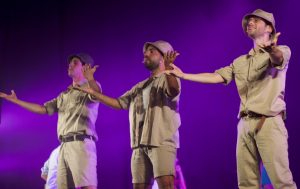 "We aim for a cultural and educational encounter based on Yitzhak Rabin's assassination and the social issues that have risen from it."
Omer Yavin created an original Israeli Hip Hop Opera that explores the life of Itzhak Rabbin and touches on contemporary social issues. The show was created for teenagers and educational institutions as an educational tool to cope with the Prime Minister's assassination and with social issues of the past, present and future of Israeli society. Now that the show is ready to be staged, Yavin is looking for ways to promote it, and needs funding in order to professionally record some of the original songs from the opera. Listen to the finished recording here.
Update: Simple Math is an Israeli Hip Hop Opera that unfolds the life of Yitzhak Rabin and touches on contemporary social issues of our time. The show was created for teenagers and educational institutions as an educational tool to cope with the Prime Minister's murder, and with social issues in the past, present and future of the Israeli society. The opera is meant to be an educational tool and its destined crowd are high school teens.
With the help of AVF we were able to record the songs of the play, and upload them to Spotify. The recording went extremely well and the results came out great! The play is still running and many teens all over the country have already seen it.