Current AVF Grantees
2022 Grantees:
Neta Aricha (Amitei Bronfman '16): "Sick Bed" – debut film
Neta's first short film, which was written as part of her studies, seeks to give voice and expression to feelings and times of transition and collapse, and to bring women together through the observation of one woman in her bed, experiencing her disintegration and construction, her pain, dreams, hopes, alienation and reacquaintance with her body. The film was written and directed by Neta, and was made by a team of 14 strong and dedicated women.
Sara Bamberger ('97): Soul Stories: How We Heal
Based on the author's experience as a holistic healer in Jerusalem, "Soul Stories: How We Heal" is a collection of lyrical narratives about how the subconscious can direct the body, mind and soul to realign and bring even the most dis-eased person back into balance. The work integrates reflections on Jewish approaches to physical and emotional healing, as well as how the Israeli healthcare system tries to best meet the needs of its citizens, many of whom carry traumatic memories from wars, military operations, terrorist attacks and the Shoah. Each patient's story offers a startling, intriguing and sometimes humorous example of how life experiences manifest in our physical and emotional bodies.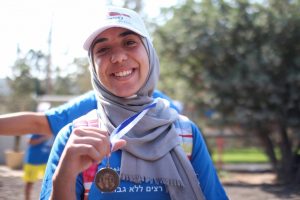 Shoshanna Ben-David (Amitei Bronfman '14): Runners Without Borders (picture on left)
Runners Without Borders was founded in November 2014 by Jerusalem-based athletes in response to the wave of violence that swept Jerusalem, and offers platforms for Jews and Arabs to meet, interact and collaborate through running. Today, more boys (Jews and Arabs) come to the race than girls, and Shoshana's goal is to change the situation by creating a nucleus of Arab women from East Jerusalem and Jewish women from West Jerusalem who will participate in the race.
Katherine (Katje) Bulthuis ('21): Froyen Lider – Yiddish Songs
"Froyen Lider" (Women Songs) is a collection of poems by Yiddish writer Kadya Molodowsky that Katje is setting to music. The poems handle subjects such as tradition, gender, and Jewish identity. Katje hopes to produce these songs as an album or EP, creating art that young Jews today can relate to, as well as helping Yiddish feel more accessible. The project started as Katje's Beyond Bronfman project.
Dvir Cahana ('11): Perfecting the Art of Torah Study
Dvir is the founder of The Amen Institute, which is creating an art education program for rabbinic schools. The program will bring in Jewish artists from their J.A.W. (Jewish Artists of the Week) Fellowship to show the pedagogic and innovative power of visual midrash, demonstrating the vast possibilities and benefits of democratizing Torah study and empowering people to look at texts in novel ways that they never would have imagined. At the culmination of this year, they will select two of the art pieces that most demonstrated the artists' unique perspective when probing the text for innovation, poignancy and translating it into their medium of creative expression. The recipients of this distinction will present their works at the Open Orthodox rabbinic seminary, Yeshivat Chovevei Torah. In their presentation they will demonstrate the potency of using art as an exceptional means of engaging with texts and will especially describe the courage to allow one's own life experiences to inform the way in which a text is read.
Daniel Krane ('12): Ashkenazi Séance – A special theatrical experience (picture on right)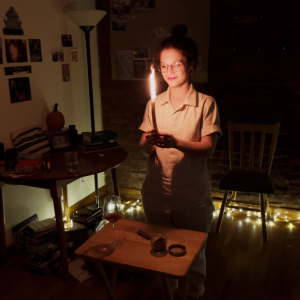 Ashkenazi Séance is Daniel's New York debut as a director. The play explores what it means to lay down roots as diasporic Jews, looking at Sarah Sanders' fraught decision about whether to hold on to hold onto a family heirloom, and using it as a larger window into what it means to build community today as an American Jew. It was performed at The Brick Theater in July 2022. (Watch a video about it here.)
Nadav Penn (Amitei Bronfman '03): "Transitions" exhibition, Mazo Gallery
Mazo Gallery is an independent space for culture and art that was established at the end of 2021 by a collective of six young people from Haifa, including Nadav, with the aim of making art accessible at no cost. The summer exhibition at the gallery, "Transitions," deals with the question of decomposition and change in nature, the beginning and the end point and the movement in between – a movement that is sometimes linear and sometimes circular. It will feature a young artist, archaeologist, geologist, and a performance artist.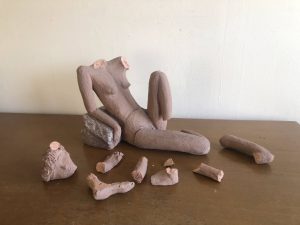 Talia Rothstein ('12): SUSIKA – A digital art installation (picture on left)
SUSIKA is a digital art installation that archives the work of the late Mexican-Jewish artist and Talia's grandmother, Susana Karchmer, whose artist moniker was Susika. Talia will photograph their grandmother's sculptures and paintings and display them on a website that will serve as a digital gallery, and plans to take a series of film photographs exploring the relationship between their grandmother's sculptures and their own body. This creative process of memorialization will explore themes of intergenerational trauma, gender, and the physical experience of loss. It will also tell the story of a Mexican-Jewish experience that is relatively unknown in the United States, thereby adding to our understanding of the richness of Jewish life in the diaspora.
Tom Shai (Amitei Bronfman '99): TLGREEN – Green is for everybody
In collaboration with his students at the school where he teaches, Tom leads a multidisciplinary workshop in the field of urban eco-agriculture. The workshop will specialize in the construction and accessibility of gardens for the elderly and those with disabilities, will be based on the activities of at-risk boys, and will operate as a social business. The business will include a carpentry workshop that produces upholstered furniture from recycled wood, a planning and construction team for balconies and yards, and a nursery for propagating and growing plants.
Avital (Eitan) Yafin (Amitei Bronfman '99): "Emotion research" – A therapeutic app
Eitan will develop "Emotion research," a therapeutic tool that relies on the basic approach that the patient has the ability to find well-being independently, and that the patient's own leadership and activity can lead to significant emotional healing. The tool centers around a structured set of questions that deal with different emotions, interviewing people, and talking about the results of the interviews and coming up with significant insights with a therapist. In its initial version, the tool was developed by Eitan's sister-in-law, the late Hagit Sofer, a communication clinician who did not have time to complete this unique therapeutic approach.