Current AVF Grantees
2023 Grantees:
Adi Dardickman (Amitei Bronfman '11) will help develop the Quiet-Island Community, a Facebook group designed to offer a social and non-judgmental space for young people in Israel who struggle with mental health issues. It is a safe space for sharing, listening, creating new relationships, and it provides effective tools for self-expression. Adi is one of the five volunteer leaders who facilitate the virtual community. With the AVF grant, the five leaders will be able to access professional development, especially in community management so they have the tools to take this project to a next level. They will plan to organize in-person meetings, create deeper connections, and make the members of the online community more involved in creating content and sharing their stories.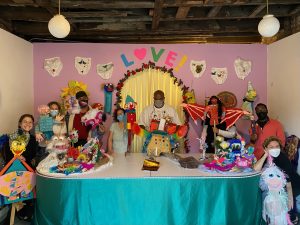 Priscilla Frank '06 will work with each artist for "That Paradise Place," an experimental, collaborative puppet musical about the love, sex, and fantasy lives of artists with disabilities. Every song in the show is adapted from a firsthand account of an erotic experience or reverie shared by an artist who identifies as having a disability. Writer and director Priscilla Frank will work with each artist to crystallize their unique testimonial and conceptualize a puppet alter ego to tell their story. These puppet alter egos provide artists a layer of protection and anonymity when sharing intimate stories, perhaps for the first time. Love, sex, and creativity are largely absent from conversations about justice and rights for people with disabilities. The omission reflects our society's fear of sexuality outside capitalist patriarchal norms, and the deeply ingrained prejudice many hold toward people with disabilities. We reject the assumption that eroticism, pleasure, and play are superfluous characteristics of a flourishing human life. The show's joyous celebration of making love in its many forms will inspire audience members to embrace pleasure as a human right. Viewers with disabilities will be represented in their fullness as people with complex desires and inner lives.
Intercollegiate Community: Shalhevet Shivyoni. The project is the launch of Shalhevet Shivyoni, an intercollegiate community centered around halacha and inclusion. We oversee the planning and execution of the community-building activities, including Shabbatonim, learning opportunities, and prayer spaces, and facilitate communication and collaboration between the participating colleges and universities. Our goal is to create a sustainable network that provides opportunities for students to explore and engage with traditional Jewish practice in a welcoming and egalitarian environment.

Leah Jordan '03: Azara: Opening the Beit Midrash is a growing new cross-communal learning initiative that aims to create a culture of Torah learning in the UK across denominations. Azara aims to open the beit midrash to everyone, with classes, programs and events. Our Flagship Program — The Azara Summer Program (Edinburgh, 21st June – 23rd July 2023) is the first ever month-long cross-communal yeshiva program in the UK. It's an unprecedented chance for our participants to immerse in Jewish texts, deepen their relationship with Judaism, and learn how to shape their own tradition. We welcome people of all backgrounds, genders, and levels of experience to join us in a month-long exploration of Talmud and other Jewish texts. Together, we'll create a community of learners where no question is too difficult to ask or answer. Through world-class teaching, participants can build the skills to engage with Torah on their own terms.
Itai Kooper (Amitei Bronfman '17) aims to publish Kushta Demilta: A Collection of Essays that will focus on the long neglected teachings of Sephardic Rabbis and leaders in the Yeshiva community. One year ago, Itai established an online journal called Kushta Demilta that centers the Torah of Sephardic Rabbis. He wants to take this online journal one step ahead, and publish a collection of essays by Rabbis and leaders in the Yeshiva community, who focus on Sephardic teachings. The teachings of Sephardic Rabbis have been neglected for generations. They bring a different spirit to Torah studies – a more welcoming and balanced one, which is also more attuned with everyday life. This spirit is being left out of the Yeshivas and Batei Midrash. Itai wishes to make a change and to help fix this injustice, and with his hope to connect the Yeshiva study to the spirit of Sephardic teachings. Through this publication, Itai is hoping to expand the roots of the Sephardic teachings in the world of Yeshivas, amplify the presence of the teachings of Sephardic Rabbis, and hopefully bring a spirit of patience and acceptance to the Yeshiva discourse.
Roei Shalom (Amitei Bronfman '14): The children's book "Queen Exactly and King Almost" will demonstrate the importance of these two opposing qualities we all possess. Roei writes, "I started writing the story as a writing exercise and a challenge. A little girl shared with her father a story she had been told in Sukkut. I heard only half of the story, but I was intrigued by her description of 'Queen Exactly' and felt drawn to write about it. The idea became a reality… I see the world as divided into two big forces. As a teacher, I see the strength of these forces in the children's world. Growing up we all learned we should prefer one force. Precision is a strong suit – being precise in time and creation is something we all value. We were all taught to draw within the lines, and when we were late – we were punished for that. But there is an opposite force within us, and this is the force that drives us towards creation. It is the spontaneous, unleashed, power of being 'almost.' People who act from their gut feeling have a passion for what they do. I wrote this book to give place for this underrated force and give it more place and meaning in our lives. The purpose of this book is to help parents and children see the value in 'almost.' I want this book to influence parents to value the 'almost' of their children, and I want to help children understand the importance of maintaining balance using precision or the force of 'exactly'."
Michal Shendar (Amitei Bronfman '16) is designing a summer class for students in Israel with no legal status, to help them catch up with the skills of their Israeli peers before they start middle school. This intensive summer class is for seventh grade students with no legal status that are about to enter school where they will study alongside Israeli students. The class will prepare them for the transition, academically and emotionally. These children were born and raised in Israel, yet so far they were receiving their education in schools that are exclusively for children of asylum seekers and labor migrants. Our goal is to help them catch up on the skills that Israeli children their age already have, and they lack because these were not taught in the schools they attended. Alongside the academic work, the students will take part in discussions about self image, racism, identity and belonging, in order to prepare them mentally for the encounter with their Israeli peers. We will also hold meetings with the student's parents, in order to prepare them for the challenges of sending their child to Israeli middle school and explain the structure of the educational system in Israel.
Aviva Nagosa Terri (Amitei Bronfman '02) will create a PR platform for her solo play Made in Israel, which focuses on the identity conflict of an Ethiopian teenage girl in Israel. The AVF grant will fund a website for the solo play, Made in Israel, written and performed by Aviva. The play centers an identity conflict of an Ethiopian teenage girl in Israel. This play, Made in Israel, is about the journey of an Ethiopian girl in Israel who is going through a process of shaping her identity, while coming upon many obstacles that make it hard for her to find her place in society. She is sharing that as a Black, Jewish, Israeli woman she feels like there is no place where she fits. The story of this one young woman represents the struggle of the whole Ethiopian community in Israel. The play is funny and honest, and is a good fit for young audiences, and also for workers in organizations that deal with politics and identity. This project is meant to create a platform where the information about the play is accessible and represents it well.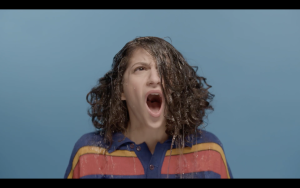 Marnina Wirtschafter '15: Doom Scroll is a musical web-series about a cynically Jewish 20-something who finds herself magically trapped in the Torah. Marnina is the creator, writer, and lead actor. Marnina's partner Michael is a co-writer, composer, and director. In this series, a cynically Jewish 20-something finds herself magically trapped in the Torah. With the help of Biblical characters, her rabbi sister, and original songs, she must make meaning of the ancient text to escape the scroll and return to her life. Episode one, the pilot episode, explores the story of creation. The character, Shira, who is trapped in the Torah, meets God and must grapple with and question the "It was good" nature of the earth's creation and learn to experience the text critically. The part they're filming right now is the music video and song that takes us through the creation of the universe in seven days. Then, Shira learns how much Torah she has left before she can escape. This project has also been funded by the Maimonides Fund Jewish Writers Initiative Digital Storytellers Lab.